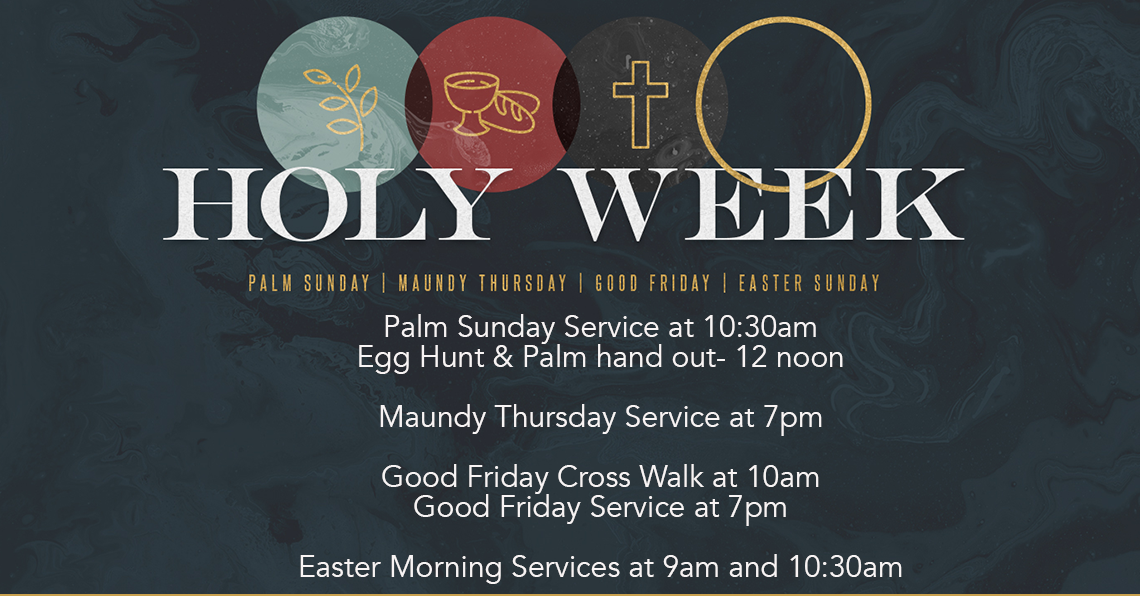 Holy Week 2021
Join us during this Holy Week as we follow the Journey of Jesus from the Day of "Hosannas", to the Table of the Lord, through the Cross, and unto the Day of "Alleluias."
Palm Sunday Service at 10:30am- Will be live streamed on our Facebook page and later uploaded here.     Palm handouts will begin following our worship service in the back parking lot. Look for your friends waving branches!
Easter Egg Hunt will begin at 12noon on Palm Sunday in our front lawn. Please pre-register here
Join Pastor Dennis for 3 Video Messages on Monday, Tuesday, and Wednesday. All videos and service videos will be posted here, on our Facebook Page and sent through an email blast.
Maundy Thursday– The Lord's Supper will be Celebrated at a Service on April 1st at 7:00 p.m. Come to the Table and be Hosted by the Lord as we move from Welcome to Goodbye!
Good Friday- Cross Walk at 10:00 a.m.
We will gather in the Front Yard by the 3 Crosses for opening prayer and then walk along Green Tree Road to Mt. Pisgah Presbyterian Church on Aiken Avenue.  We will carry a cross and pause to share the words of Jesus during his Final Discourse with his disciples.  (It is a 1-mile walk)
A Service of the Cross will be held on Good Friday @ 7:00 p.m.
Holy Saturday– Join Rose Schrott for a Video Message reflecting the purpose of our Lord's Death.
Easter Morning Worship Services– Alleluia!